An Eco-community Family
Season One
Episodes 7 & 8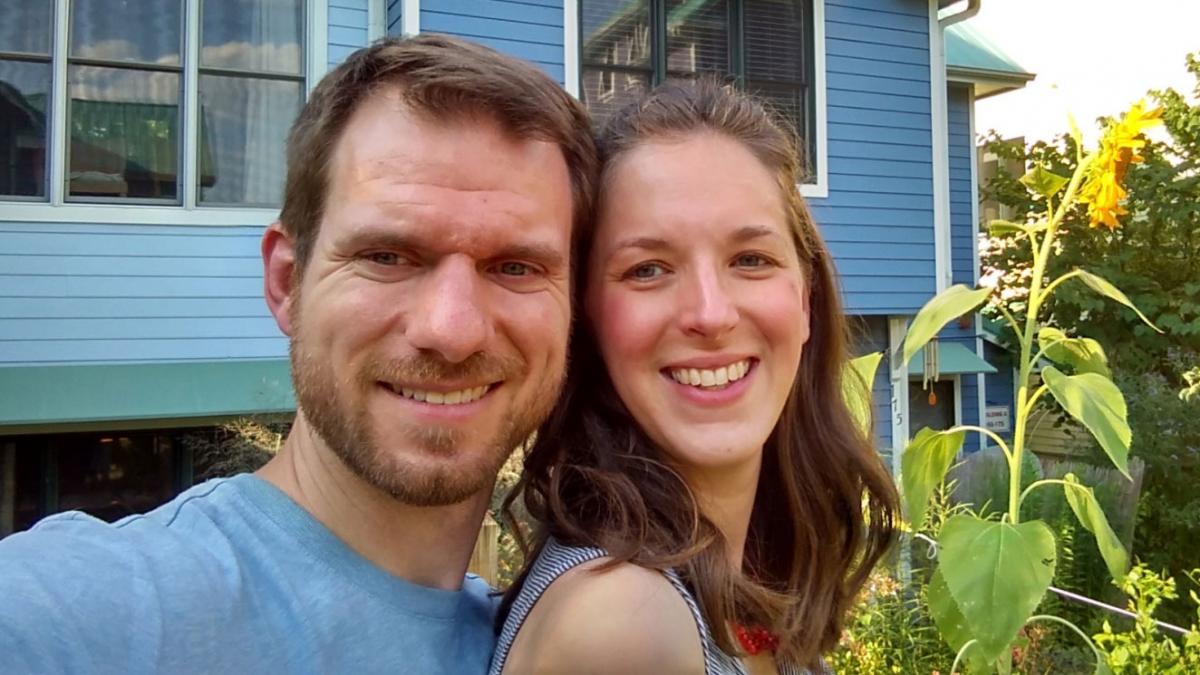 Overview
Episode 107 – "It Takes a Community"
Pacifica is a co-housing community, and Tracy and Brad take us on a tour. It reflects their world-view and inspires how they intend to live their life. Today we review how we'll create an eco-friendly nursery using materials that are safe in every respect. We build a pipe bookshelf, begin our update of the bath, and build a book stack lamp from scratch.
Episode 108 – "Bookish Baby"
Tracy and Brad continue their journey to parenthood by working with a local bookbinder to create a journal for their baby. At home, we are putting down eco-friendly carpet tile, building a book-themed signpost, and fitting out our nursery with other organically fashioned projects.
Projects in these Episodes
On this episode you will learn to:
Stain and Seal a Bookshelf
Build a Pipe Bookshelf
Create a Book Lamp
Build Mason Jar Wall Containers
Place New Carpeting
Make a Keepsake Journal
Paint a "Stained Glass" Window
Make a Book Themed Signpost
Built Nursery Toy Bin
Install a Wall Rug Decoration
And more!
Watch the clip
Community Living
Watch the clip
Stained Glass Window Project
Suppliers
Wall Color - Benjamin Moore Calm 2111-70
Bathroom Wall Color - Benjamin Moore Majestic Blue 2051-40. Painted by Sven Johnson of SA Johnson Decorative Art and Interiors
Red Accent on Produce Shelf - Benjamin Moore Poppy 1315
Crib - DaVinci Highland Convertible Crib
Carpet Tiles - Flor
Moroccan Rug and Rug Pillows - Greenfront Interiors
Rocking Chair - Nurseryworks Sleepytime Rocker
Accent Pillow - F. Schumacher & Co, available through Design Lines Ltd.
Dresser - Vintage, from Gremlina Vintage
Floor Lamp - Target
Changing Pad Basket - Pottery Barn
Changing Pad Cover - Aden & Anais
Woven Shades - Wal-Mart
Watercolor Art, Crib Sheet, Blocks, Shower Curtain - Target
Round Rug, Oval Mirror, Train, Towels, Art - World Market
Floor Mats - Bed, Bath, & Beyond