June 5, 2017
It looked like giant monsters had come forth from the sea and beyond to invade Brooklyn.
A large purple octopus sloshed above the crowd, tentacles outstretched, bubbles spewing forth from beneath its eyes. When framed against the sky at the right angle, it looked like it could wrap itself around a skyscraper in the distance. In another corner of the lot, perched over a golden nest with its wings spread wide, a fierce-looking golden eagle watched over its young that were ready to hatch. And towering above everyone and everything, a giant, orange orangutan mother loomed over the crowd with her child clinging to her back. Being framed beneath the Brooklyn Bridge and against the Manhattan skyline imbued their appearance with a King Kong quality.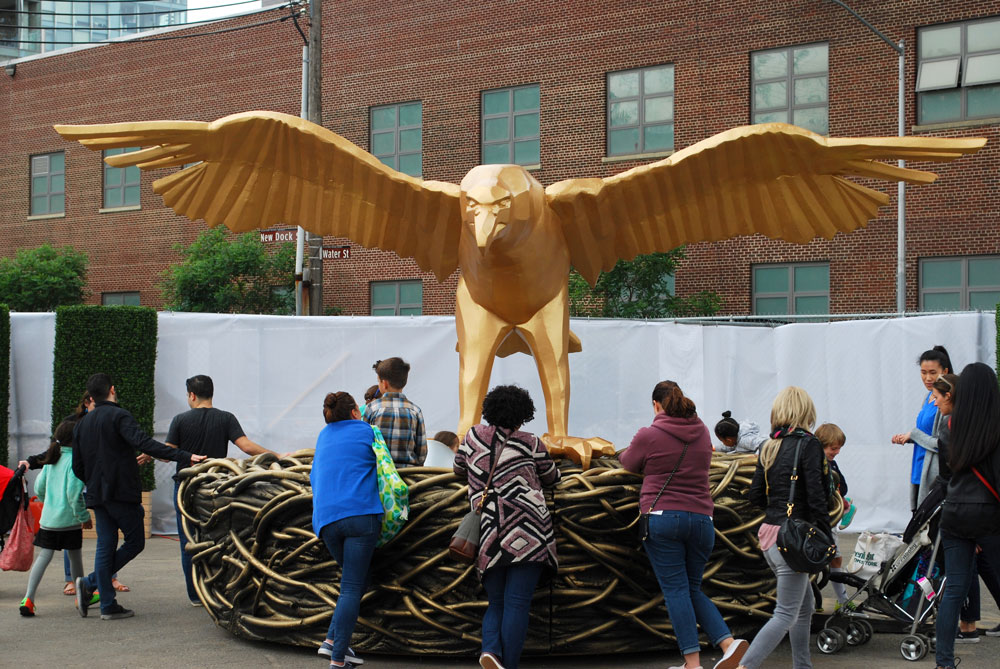 Bryan Reesman
These three animal giants were visual standouts in the two-day outdoor exhibit called "Protect Like A Mother," which tied in with the Lysol® promotional campaign of the same name. (Lysol is the sponsor for Baby Makes 3.) The creatures appeared on May 20 and 21, 2017, but they did not scare anyone at all. Indeed, they were a family friendly attraction that helped draw in an estimated 10,000 people into an exhibit that included displays of animal mothers and stories of how they raise their young. Children delighted at the sight of the large animals and played enthusiastically around with them.
Brooklyn-based scene fabrication and design shop SFDS helped design and build the colorful creatures for this "Protect" showcase, constructing them from steel frames, foam, fiberglass coating, and paint. They took approximately 36 hours to install and put in place for the two-day event. SFDS has an impressive client roster that includes Instagram, Target, Vera Wang, and MoMA.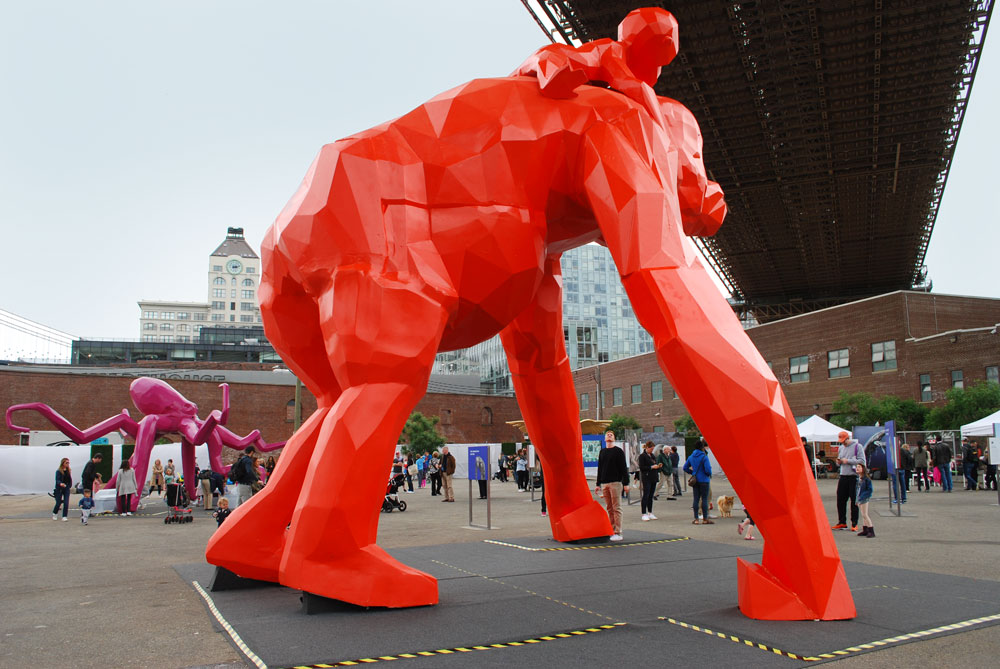 Bryan Reesman
The orangutan stood 24 feet tall by 23 feet long. It was definitely a standout for photo ops but obviously not safe for climbing. Swirling around at 15 feet high and 27 feet wide, the bubble-making octopus was more family- and kid-friendly, with children able to sit atop one of her tentacles for photos. The 11-foot tall eagle had a wingspan of 14 feet and stood watch over a nest 13 feet 6 inches in circumference. She was another favorite since smaller youngsters could play in the nest and stand or sit inside an egg that was "cracked" open.
Judging from the enthusiastic response and picture taking, this titanic triumvirate was a smashing success. (But without any actual smashing.) And like many of the attendees of the exhibit, they were proud mothers just protecting and nurturing their young.